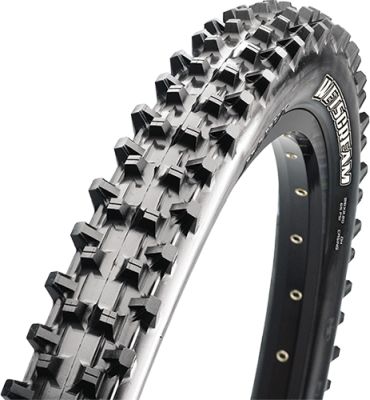 Maxxis Wetscream Super Tacky DD Folding MTB Tyre
A mud-spike for DH racing in the worst conditions Designed for the muddiest downhill racecourse in the world: Les Gets France - Not for your local trail - the WetScream is intended for competition use only on professionally maintained courses - When the course turns ugly - trust the WetScream to carry you to victory -
Specification
• ETRTO: 55-584
• TPI: 2x120
• Bead: Foldable
• Weight: 1015g
• Compound: Super Tacky
• Max Psi: 65
• Tech: ST/DD Techno...
More Information
A mud-spike for DH racing in the worst conditions
Designed for the muddiest downhill racecourse in the world: Les Gets France. Not for your local trail, the WetScream is intended for competition use only on professionally maintained courses. When the course turns ugly, trust the WetScream to carry you to victory.
Specification
ETRTO: 55-584
TPI: 2x120
Bead: Foldable
Weight: 1015g
Compound: Super Tacky
Max Psi: 65
Tech: ST/DD
Technologies
DOUBLE DOWN (DD)
DoubleDown (DD) is the next step in the evolution of the dual-ply tire casing for enduro racing. Two 120 TPI casing layers reinforced with a butyl insert provide the enduro racer with the support and protection of a downhill tire, but in a lighter package.
SUPER TACKY
A special low rebound, high traction compound used in mountain tires.