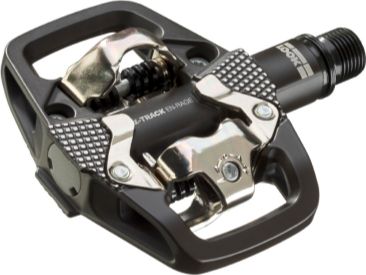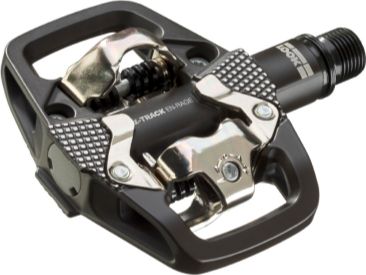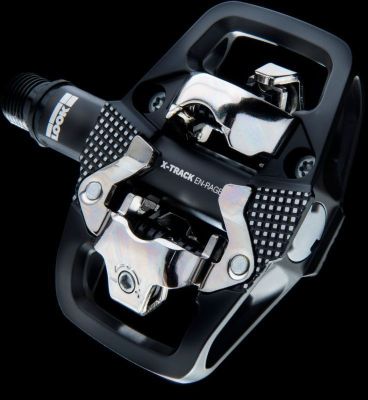 Look X-Track EN-Rage Black MTB Clipless Pedals
ORIGIN Following the launch of the X-TRACK RACE range - designed for CROSS COUNTRY / GRAVEL - the X-TRACK range is continuing to grow with a new addition to the family : the X-TRACK EN-RAGE - This latest product has been designed for the TRAIL / ENDURO discipline - It completes our off-road range of pedals by offering a wider pedal body - With more contact area it offers added stability - and construction to withstand the hardest of knocks -
Features The X-TRACK EN-RAGE pedal - again made of ...
More Information

ORIGIN
Following the launch of the X-TRACK RACE range, designed for CROSS COUNTRY / GRAVEL, the X-TRACK range is continuing to grow with a new addition to the family : the X-TRACK EN-RAGE. This latest product has been designed for the TRAIL / ENDURO discipline. It completes our off-road range of pedals by offering a wider pedal body. With more contact area it offers added stability, and construction to withstand the hardest of knocks.
Features

The X-TRACK EN-RAGE pedal, again made of aluminium, but has a narrower body. It is 63 mm wide for 554 mm ² of contact surface area, making it a lighter pedal. This narrower profile makes it more at home in narrow and steep single track. While still ENDURO capable, it is mainly intended as a TRAIL pedal.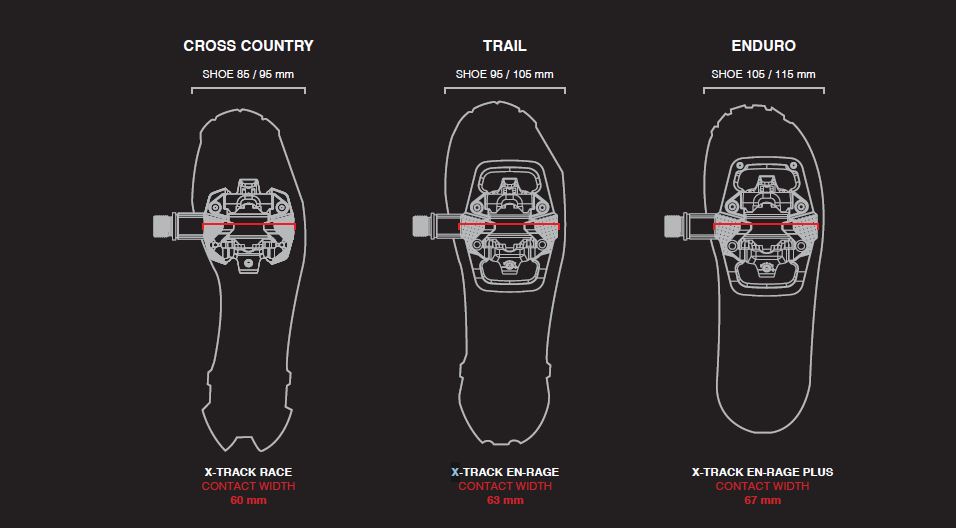 STANDING UP TO ANY SITUATION
PREMIUM COMPONENTS
Our desire to continually improve your product-experience is demonstrated by the design of a durable and easy-to-use product. Our new mountain bike pedal has been designed around a robust spindle and bearing mechanism.
It is resistant to damage from external elements ( rocks, roots, mud, etc. ). In order to achieve consistent performances, the pedal shaft includes double water resist seals to withstand the most extreme conditions your trails can offer.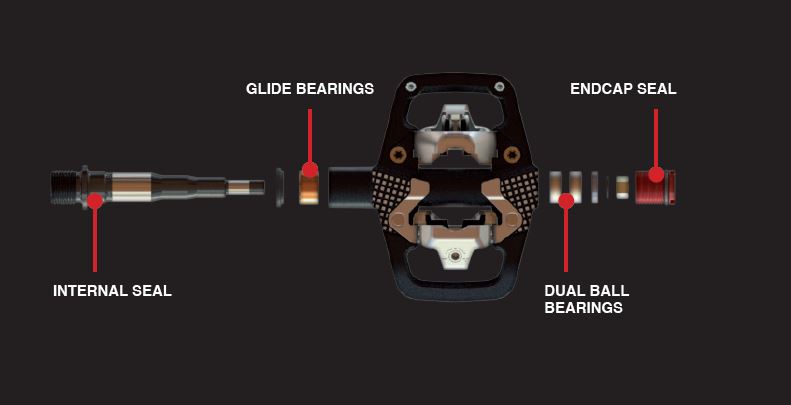 TWO CLEAT MODELS OPTIONS
Two cleat models are available for the X-TRACK RACE and X-TRACK EN-RAGE range. The X-TRACK CLEAT is a standard version which allows a standard lateral clip out. The X-TRACK EASY CLEAT offers a larger clip out range with a lateral and angled release possibilities. By choosing the right cleat you can adapt your pedal performance to your needs and practice.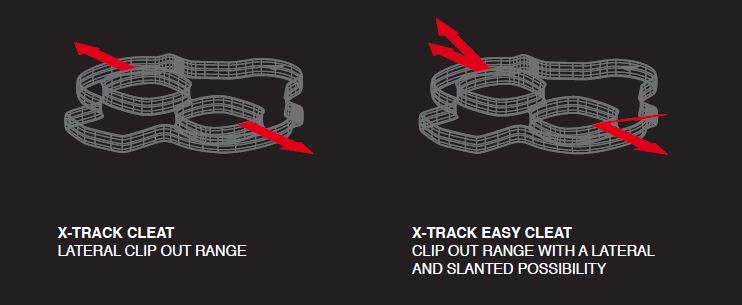 Specification
TECHNOLOGY: X-TRACK
TENSION: 6 to 14
BODY: ALUMINIUM
SPINDLE: CHROMOLY +
PLATFORM AREA: 545 mm2
PLATFORM WIDTH: 63 mm
Q FACTOR: 53 mm
STACK HEIGHT + CLEATS: 16,8 mm ( 10,7 + 6,1 mm )
WEIGHT PEDAL: 210 g
WEIGHT PAIR + CLEATS: 465 g