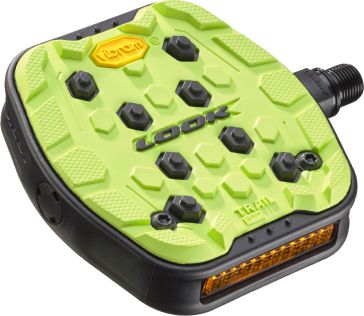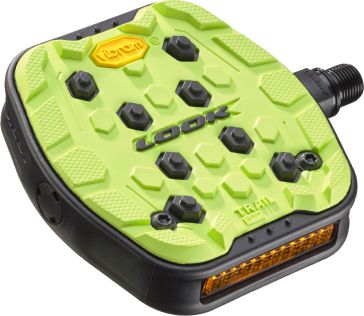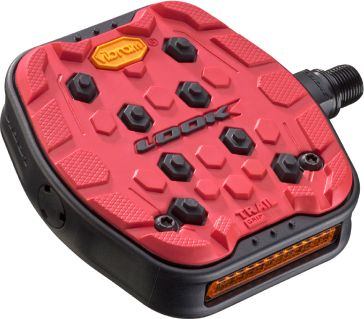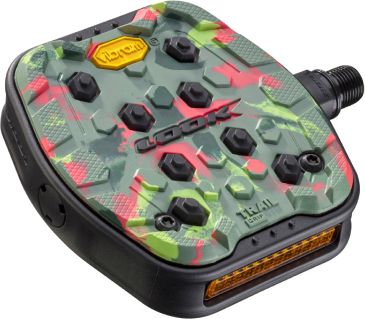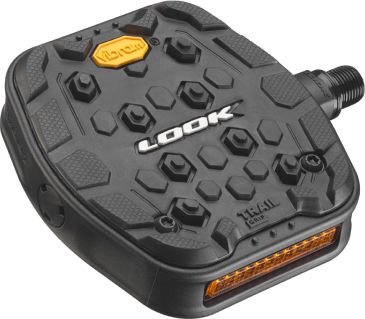 Look Trail Grip MTB Pedals
LOOK Trail Grip pedals with Activ Grip by Vibram rewrite performance and personality rules for off-road riding - Unique - mountain peak-evolved - composite stud and rubber lug tread inserts give brilliant bike control and slip free security without trashing your shoes or your shins - Race-bred bearings and four switchable colors deliver smooth style -
Changing the grip game - with Vibram TRAIL PLATFORM - with LOOK Activ Grip by Vibram
There's always room at the top: the top step of...
More Information
LOOK Trail Grip pedals with Activ Grip by Vibram rewrite performance and personality rules for off-road riding.
Unique, mountain peak-evolved, composite stud and rubber lug tread inserts give brilliant bike control and slip free security without trashing your shoes or your shins. Race-bred bearings and four switchable colors deliver smooth style.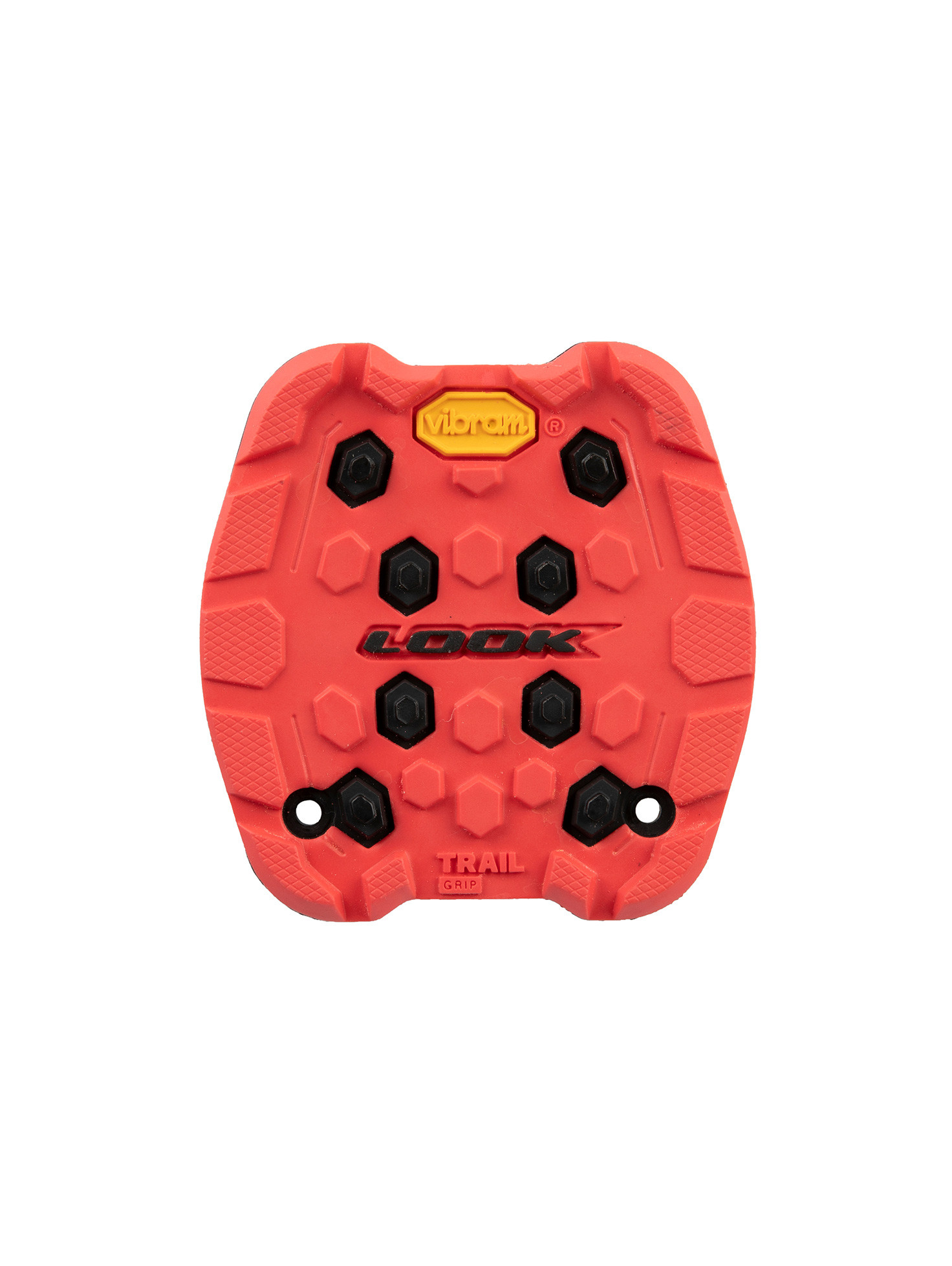 Changing the grip game, with Vibram
TRAIL PLATFORM, with LOOK Activ Grip by Vibram
There's always room at the top: the top step of podiums where LOOK pedals have earned their performance reputation; and the top of the world's mountains where Vibram's iconic golden badge has proved the guarantee of grip and safety in tough conditions. Together we've used all our experience and passion for performance to create TRAIL PLATFORM with LOOK Activ Grip by Vibram. A new and unique answer to the control and confidence demands of every type of trail riders in every environment.
By combining a unique Vibram rubber compound with moulded and composite lugs we deliver total trust under your feet whatever the weather or terrain. They're ready for the diverse range of rider ages and experience levels coming into off-road riding through E-bikes, gravel and adventure bikes.
With a lightweight yet strong base pedal built with the experience of decades of racing, and our switchable colored pads for you to stamp your own style on the hill, look no further for the next level of platform pedal performance.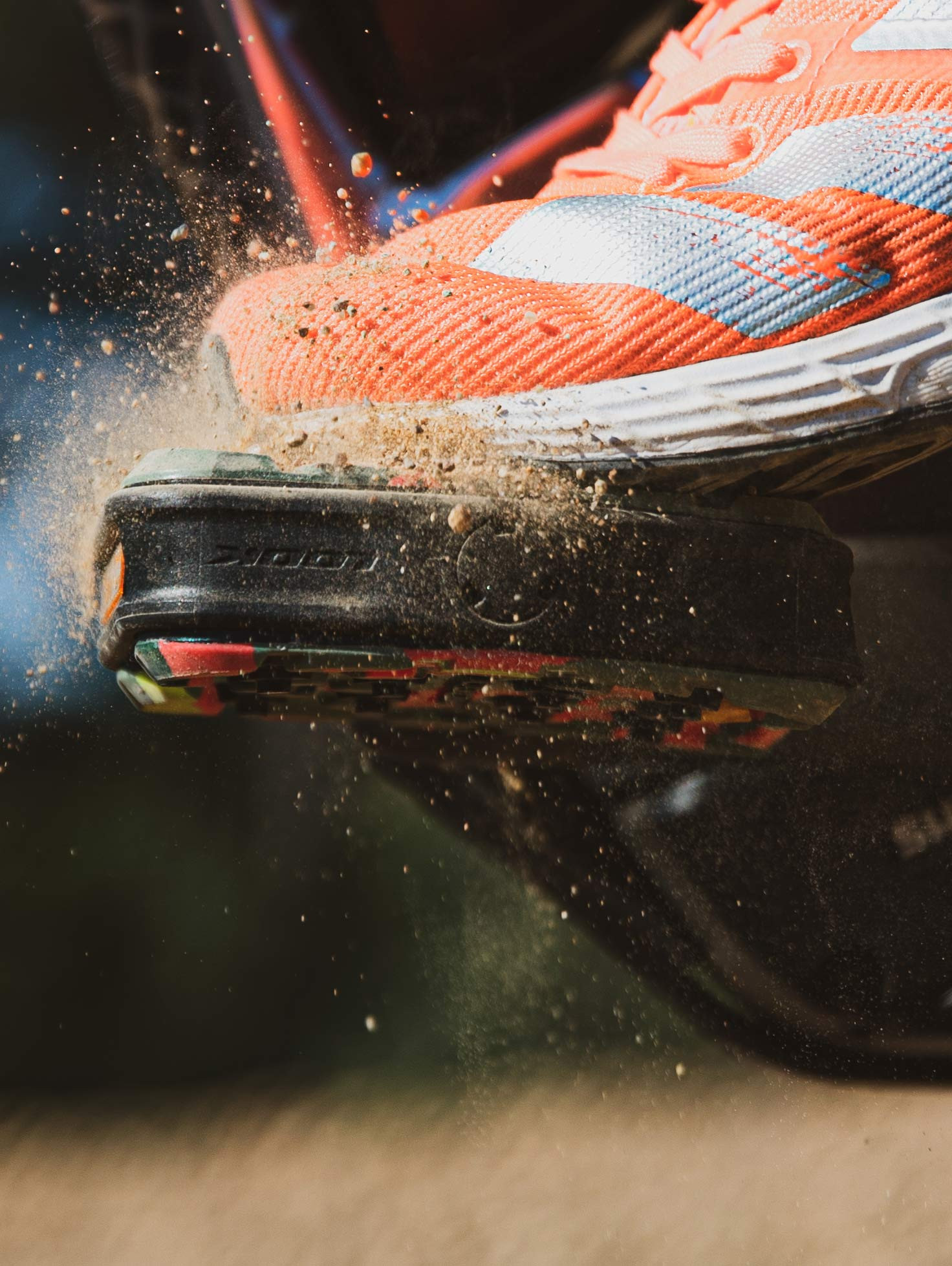 Center your confidence
TRAIL GRIP – set your stance
Whether you're grinning from an off-road leisure ride, or pumped from finding your mojo on your first flowing singletrack, LOOK's TRAIL GRIP helps you find your stance with simplicity, safety and confidence.
We've been refining and evolving that connection between you and the mountain with our legendary ski bindings and clipless pedals for over half a century and we've loaded all that LOOK experience into our unique approach to platform pedals. By combining multi-sized tread lugs in a custom Vibram rubber compound with hard biting, weather-repelling composite studs, Activ Grip by Vibram keeps you in the zone whatever the weather or whatever shoes you're wearing.
With no pins to snap on rocks, tear your soles or spike your legs (ouch!), Activ Grip also means long-life durability for pedals, shoes and shins. Fully replaceable pads make color-switching customizability easy when it's time to change it up too.
TRAIL GRIP – for every rider enjoying the thrills and fun of off-road adventures.
Why you'll love it?
Our innovative new take on how a trail pedal should work has created a truly unique, awesome-performing, super fun result.
We've worked with Vibram – the leading mountain boot grip brand for decades – to create a game changing shoe-to-bike connection.
LOOK Activ Grip by Vibram inserts use specially developed rubber compound and composite studs for excellent all-weather, all-terrain grip whatever shoes you choose. Safe, soft tread design won't shred your soles or hurt your shins apart like metal pins can.
Four different push-fit insert color choices of flat out red, neon lime pop, black stealth or crazy camo mix make your pedals as individual as you are.
Broad composite hex grid base pedal gives maximum support and strength when you're riding harder – and it accepts LOOK Activ Grip City inserts for less aggressive urban or trail riding.
Pro enduro race winning bearing and bushing system ensures smooth rolling reliability however hard or long your ride.
Technical Specification
Spindle material: Chromoly +
Body material: Composite
Q Factor: 63 mm
Grip: Vulcanized rubber activ grip + composite studs
Technology: Flat pedals + LOOK activ grip by VIBRAM
Platform area: 107x103 mm
Weight pair: 530 g / Pedal: 265 g