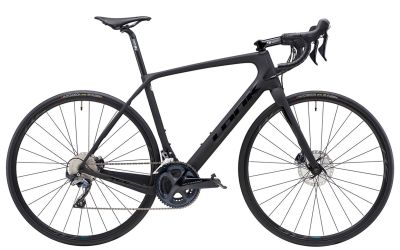 Look 765 Optimum Plus Ultegra Shimano Wheels Road Bike
A full-carbon roadbike with an endurance-oriented geometry and carefully-selected components - designed for leisure riding with a healthy dose of fun - Say yes to comfort with the 765 OPTIMUM+ Full Black Matt Glossy - This versatile bike relies on SHIMANO for the groupset - wheels and ULTEGRA disc brakes - and turns to LOOK for - - - everything else -
Why you'll love it ?
• A bike that takes away the ifs and the buts - allowing you to ride the wheels - tires and roads that you please...
More Information
A full-carbon roadbike with an endurance-oriented geometry and carefully-selected components, designed for leisure riding with a healthy dose of fun.
Say yes to comfort with the 765 OPTIMUM+ Full Black Matt Glossy. This versatile bike relies on SHIMANO for the groupset, wheels and ULTEGRA disc brakes, and turns to LOOK for... everything else.
Why you'll love it ?
A bike that takes away the ifs and the buts, allowing you to ride the wheels, tires and roads that you please. The 3D Wave seatstays at the rear and full-carbon fork on the front offer wide clearances to accommodate tires up to 700x42.
An endurance-oriented geometry for ultimate comfort, thanks to a frame 10mm shorter and 20mm higher than a pure racing frame.
A pure, understated and down-to-earth design, right down to the deep black paintwork
Specification:
Seatpost: LOOK LS3 Alloy 27,2x350 mm
Saddle: LOOK by San Marco short fit dynamic narrow open fit
Stem: LOOK LS2 alloy (XS 90 mm / S 100 mm / M-L 110 mm / XL 120mm)
Handlebar: LOOK LS2 alloy (XS-S 40 cm / M-L 42 cm / XL 44 cm)
Wheels: Shimano WH RS 171
Tires: Hutchinson Fusion 5 tubeless ready 700x30 mm (bike delivered with inner tube)
Crankset: Shimano Ultegra R 8000 (XS-S 170 mm / M-L 172,5 mm / XL 175mm)
Chainrings: Shimano Ultegra R 8000 50x34 t
Chain: Shimano Ultegra HG 601
Bottom bracket: BB 386 / Token ninja TF 38624
Cassette: Shimano Ultegra R 8000 11x32 t
Shifters: Shimano Ultegra
Derailleurs: Shimano Ultegra R 8000
Rotors: Shimano centerlock RT 800 Front: 160 mm / Rear: 140 mm
Seatpost: LOOK LS3 Alloy 27,2x350 mm
Saddle: LOOK by San Marco short fit dynamic narrow open fit
Stem: LOOK LS2 alloy (XS 90 mm / S 100 mm / M-L 110 mm / XL 120mm)
Handlebar: LOOK LS2 alloy (XS-S 40 cm / M-L 42 cm / XL 44 cm)
Weight: 9,1 kg* (size M / without pedals) *estimate
Geometry