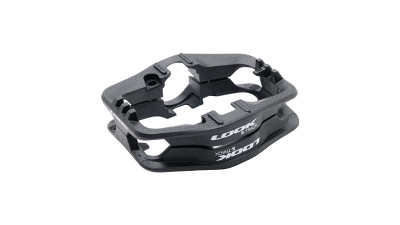 LOOK S-Track LT Pedal Cage
Composite Cage - compatible with all the S-Track range of pedals - increases the bearing surface significantly - ensuring enhanced control and maximum safety in technical or steep sections -
In this configuration - the S-Track pedal with the Cage meets the requirements of a large range of activities - from All Mountain to Enduro -
With the Cage you will also be able to use your S-Track pedal easily - with no need for an automatic fixing - for off-road touring -
Key features:
• 870 m...
More Information
Composite Cage, compatible with all the S-Track range of pedals, increases the bearing surface significantly, ensuring enhanced control and maximum safety in technical or steep sections.
In this configuration, the S-Track pedal with the Cage meets the requirements of a large range of activities, from All Mountain to Enduro.
With the Cage you will also be able to use your S-Track pedal easily, with no need for an automatic fixing, for off-road touring.
Key features:
870 mm2 of surface area
Forged, anodised aluminium cage
Composite cage
Non-slip and confidence-enhancing
Technical specification:
Use: Off-Road Touring / XC Leisure / All Mountain
Material: Composite
Screws: Self-Tapping Cruciform Head
Weight: 74 g per pair with Screws
Colour: Black
870 mm2 of Surface Area
The S-Track fitted with the Cage provides a surface area of 870mm2 for the maximum pedal/shoe contact, regardless of your position.
With its anti-slip surfaces and large surface, this version gives confidence and safety in technical singletracks.