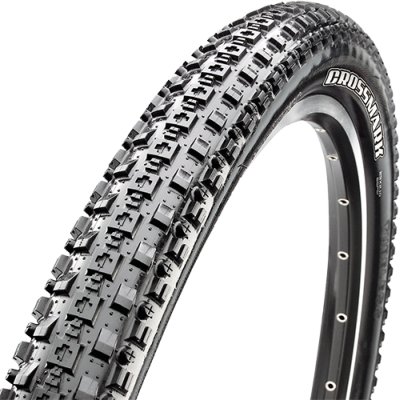 Maxxis Crossmark EXO Tubeless Ready MTB Tyre
A top performer in dry conditions The CrossMark is the dramatic evolution of the cross country racing tire - The nearly continuous center ridge flies on hardpack - yet has enough spacing to grab wet roots and rocks - The slightly raised ridge of side knobs offers cornering precision never before seen on a tire this fast -
Features
• EXO Protection offered in select models
• Fast rolling center ridge - front or rear
• Raised side knobs for better cornering Terrain:
• Har...
More Information
A top performer in dry conditions
The CrossMark is the dramatic evolution of the cross country racing tire. The nearly continuous center ridge flies on hardpack, yet has enough spacing to grab wet roots and rocks. The slightly raised ridge of side knobs offers cornering precision never before seen on a tire this fast.
Features
EXO Protection offered in select models
Fast rolling center ridge - front or rear
Raised side knobs for better cornering
Terrain:
Hard Pack
Loose Over Hard
Medium
Product specification:
27.5 X 2.10
TPI: 60
Bead: Foldable
Weight (g): 655
Compound: Dual
Max Psi: 60
EXO Sidewalls Protection
Tubeless Ready
Tubeless Ready Tubeless tires provide the rider with many benefits: the ability to run lower air pressures, which improves traction; lower rolling resistance when compared to a tube-type tire; and less chance of flatting since there is no tube. Maxxis Tubeless Ready (TR) tires provide the benefits of a UST tubeless tire without the weight penalty. Our TR tires use a standard casing and require the use of a liquid sealant in order to make them airtight. Maxxis Tubeless Ready tires are the only Maxxis tires approved for use with liquid sealants. Using a liquid sealant in any non-TR Maxxis tire will void the warranty.
EXO PROTECTION An extremely cut-resistant and abrasion-resistant material added to the sidewalls of select mountain tires. This densely woven fabric is also lightweight and highly flexible, ensuring that the performance of the tire remains unaffected. Choose EXO Protection for exceptionally rocky, treacherous trails where the chance of sidewall cuts and abrasions is high.
Compound Technology
DUAL:
Two compounds used within the tread of select tires to offer lower rolling resistance and increased cornering grip