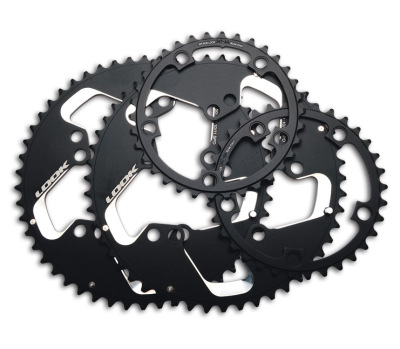 Look ZED Chainrings
Key Features
• 10 and 11 speed compatible chainrings
• Design and stiffness suited to the ZED 2 crankset
• Ultra light chainrings
• Cold forged chainrings for high precision gear changes
• Working in chainring pairs to ensure ultra fast speed changes
• Structure: CNC Machined Aluminium
• Weight: 92g in 52 Tooth / 46g in 42 Teeth POSSIBLE COMBINATIONS
• Chainrings 53 x 39 diam 130
• Chainrings 52 x 39 diam 130
• Chainrings 52 x 36 dia...
More Information
Key Features
10 and 11 speed compatible chainrings
Design and stiffness suited to the ZED 2 crankset
Ultra light chainrings
Cold forged chainrings for high precision gear changes
Working in chainring pairs to ensure ultra fast speed changes
Structure: CNC Machined Aluminium
Weight: 92g in 52 Tooth / 46g in 42 Teeth
POSSIBLE COMBINATIONS
Chainrings 53 x 39 diam 130
Chainrings 52 x 39 diam 130
Chainrings 52 x 36 diam 110
Chainrings 50 x 34 diam 110
Chainrings 50 x 36 diam 110
10 AND 11 SPEED COMPATIBLE CHAINRINGS
The chainrings are specially machined to be used with 10 and 11 speed chains.
DESIGN AND STIFFNESS TO SUIT THE ZED CRANKSET
The design of the large chainring is perfectly suited to the ZED 2 crankset spider. This design provides excellent stiffness for the crankset so that loss of energy is not possible. This is why the crankset has 5 spider legs providing perfect cohesion between the teeth and the chainring attachment points.
ULTRA LIGHT CHAINRINGS
Despite their monobloc appearance and large material webs. the large chainring is extremely light (92 gm in 52 teeth). This is obtained by CNC machining on the inside of the web forming a skin that provides stiffness without additional weight.
COLD FORGED CHAINRINGS
The new chainrings are cold forged. This technology permits a better teeth design with a more complex shape, which improves the quality and speed of gear changes.
PAIRED CHAINRINGS
The chainrings are systematically sold in pairs because the upward and downward chain slopes are precisely machined depending on the chainring pair to ensure a fast, precise and efficient gear change. It is therefore highly recommended that you should comply with this compatibility between large and small chainrings.