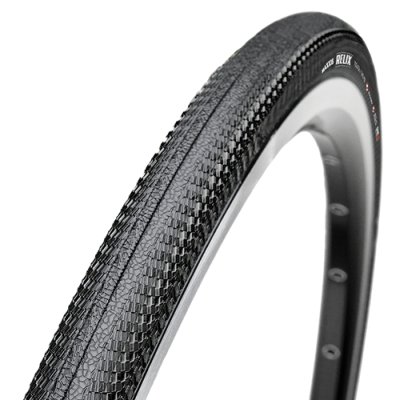 Maxxis Relix Dual Folding Road Tyre
170 TPI casing race clincher -
Features
• ONE70 Technology
• SilkShield puncture protection The Relix is the latest in a long line of race-ready road clincher tires from Maxxis - The Relix uses our lightest and most supple 170 TPI casing (ONE70) along with SilkShield puncture protection - which protects both the sidewalls and the underside of the tread -
Specification
• TPI: 170
• Bead: FOLDABLE
• Weight(g): 215(25c)/205(23c)
• Compound: DUAL
• Ma...
More Information
170 TPI casing race clincher.
Features
ONE70 Technology
SilkShield puncture protection
The Relix is the latest in a long line of race-ready road clincher tires from Maxxis. The Relix uses our lightest and most supple 170 TPI casing (ONE70) along with SilkShield puncture protection, which protects both the sidewalls and the underside of the tread.
Specification
TPI: 170
Bead: FOLDABLE
Weight(g): 215(25c)/205(23c)
Compound: DUAL
Max PSI: 145
Technology: SilkShield/ONE70
Technology
SILKSHIELD
SilkShield offers protection from bead to bead whereas Silkworm is found under the tread only. SilkShield provides an additional level of protection for sidewalls in addition to under the tread.
DUAL
Two compounds used within the tread of select tires to offer lower rolling resistance and increased cornering grip